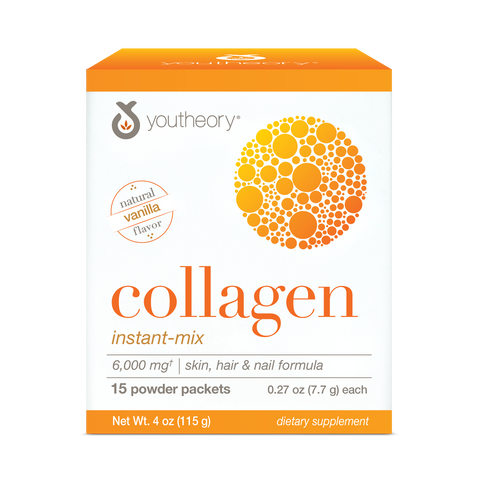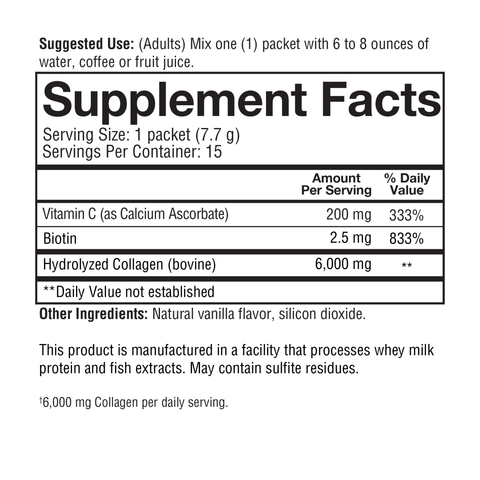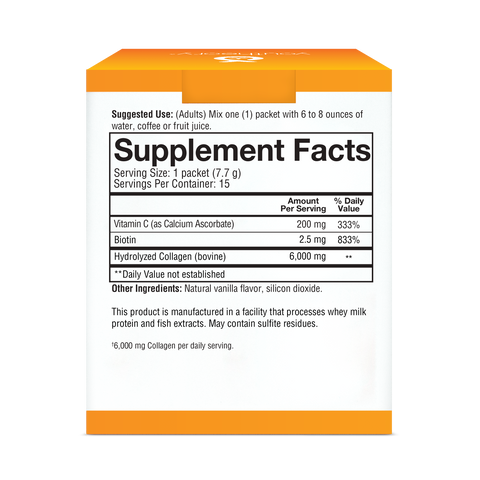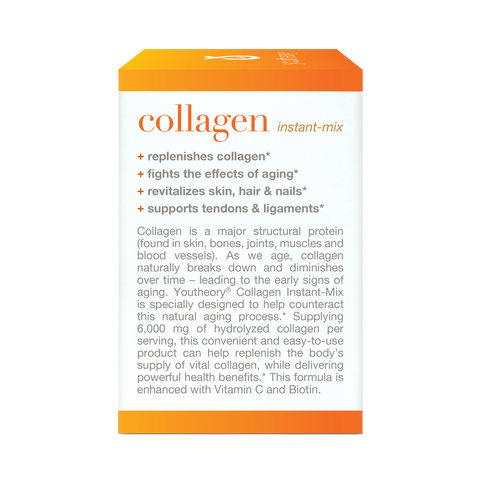 Collagen
Collagen Powder Instant-Mix
skin, hair & nail formula
3-day expedited shipping available in the US
Collagen is a major structural protein in the human body (found in skin, joints, bones, blood vessels and connective tissues). As we age, collagen naturally breaks down and diminishes over time – leading to the early signs of aging.
Youtheory® Collagen Instant-Mix is designed to help counteract age-related collagen loss.* Supplying 6,000 mg of hydrolyzed collagen per serving, this convenient and easy-to-use product helps replenish essential beauty proteins, while delivering powerful health benefits.* This formula is enhanced with vitamin C to aid internal collagen production and Biotin to support health & beauty factors.*
product features
replenishes collagen*

revitalizes skin, hair & nails*

highly absorbable peptides

fights the effects of aging*

supports tendons & ligaments

enhanced with vitamin C & biotin

convenient powder format with a great tasting vanilla flavor
directions


Format: Powder
Number of Servings: 15
More about Collagen Powder Instant-Mix
Supplement Facts
Serving Size: 1 packet (7.7 g)
| | | |
| --- | --- | --- |
| Vitamin C (as Calcium Ascorbate) | 200 mg | 222%DV |
| Biotin | 2.5 mg | 8,333%DV |
| Hydrolyzed Collagen | 6,000 mg | ** |
**Daily Value not established.
Other Ingredients: Natural vanilla flavor, silicon dioxide.
This product is manufactured in a facility that processes fish extracts.
What is collagen's effect on aging?
Collagen is the primary structural protein present in the extracellular matrix of the body's connective tissues. Collagen is necessary for the health of bones, skin, blood vessels, and other organs. Low collagen levels can cause joint problems and skin elasticity loss. While collagen is bountiful in youth, collagen levels naturally decrease with age - leading to thinner, weaker, less resilient tissues over time. This includes visible changes in the skin, such as dryness, wrinkles and fine lines.
What is collagen good for?
Collagen is a protein that is crucial for joint health and skin suppleness. It's in your bones, muscles, and blood, and it makes up three-quarters of your skin and about one-third of your protein. Hydrolyzed collagen is a special type of protein that is "pre-digested" and broken down into smaller-sized peptides. Our collagen products are manufactured in-house using a natural cold-enzyme process that creates some of the purest low-molecular-weight collagen in the world for enhanced absorption at our Southern California manufacturing facility. The majority of our collagen comes from farms in France, Brazil and the USA.
Do collagen supplements work?
Yes, studies suggest collagen works. It is beneficial for providing support to healthy skin and joints, and there is evidence that suggests that collagen supplements may help to reduce wrinkles and other signs of aging.
Are collagen supplements safe?
Taking collagen supplements is generally believed to be safe for the general public. By mixing different amino acids, your body creates collagen and other proteins. Whether you take a collagen supplement or not, you must eat a balanced diet that contains all of the amino acids for your body to achieve its potential.
Where does youtheory collagen come from?
Our products are manufactured in-house at our Southern California manufacturing facility. The majority of our collagen comes from farms in France, Brazil and the USA.
*Check with your doctor before using this product if you are using medication or have any medical conditions. Do not use if you are pregnant or nursing. Do not exceed the recommended daily intake. Not intended for persons under 18. KEEP OUT OF THE REACH OF CHILDREN. Store in a cool and dry place after opening.