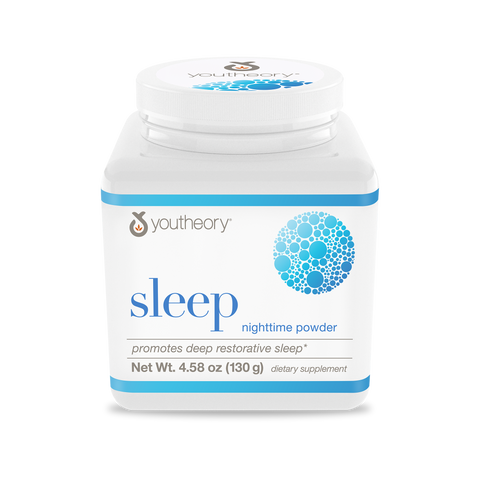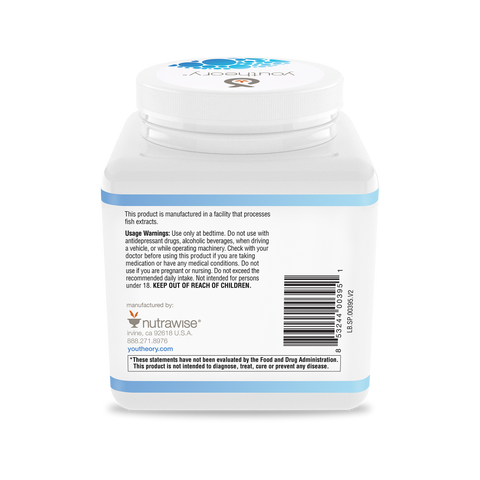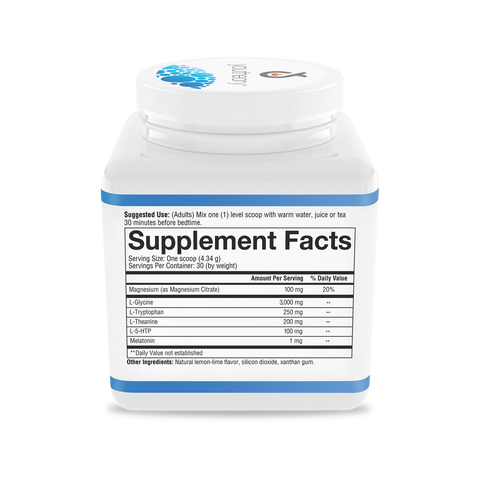 sleep powder
promotes deep restorative sleep*
3-day expedited shipping available in the US
Youtheory Sleep offers the possibility of quicker, deeper and more refreshing sleep.* This fast-acting drink mix provides broad-spectrum support for occasional sleeplessness.* It features relaxing Amino Acids, calming Magnesium and a small but powerful dose of Melatonin.*
Product Features
• supports relaxation*
• promotes rapid onset of sleep*
• improves quality of sleep*
• 3,000 mg of L-Glycine per serving
• low 1 mg dose of melatonin per serving
Directions
Suggested Use: (Adults) Mix one (1) level scoop with water or juice, 30 minutes before bedtime.
Format: Powder
Number of Servings: 30
Supplement Facts
Serving Size: One scoop (4.34 g)
| | | |
| --- | --- | --- |
| Magnesium (as Magnesium Citrate) | 100 mg | 20%DV |
| L-Glycine | 3,000 mg | ** |
| L-Tryptophan | 250 mg | ** |
| L-Theanine | 200 mg | ** |
| L-5-HTP | 100 mg | ** |
| Melatonin | 1 mg | ** |
**Daily Value not established.
Other Ingredients: Natural lemon-lime flavor, silicon dioxide, xanthan gum.
This product is manufactured in a facility that processes fish extracts.
L-Glycine is a naturally sweet-tasting amino acid that may be the next great natural sleep aid nutrient.* L-Glycine is ubiquitous in the human body and serves a critical role in the central nervous system (where it acts as an inhibitory neurotransmitter… calming overactive brain neurons).* Studies show that a single nighttime dose of 3,000 mg (3 g) of L-Glycine can help ameliorate the "next day" symptoms of sleep deprivation – improving overall sleep satisfaction and decreasing daytime sleepiness and cognitive impairment.*
Rather than giving you an excessively large dose of melatonin (3 mg or higher), we opted for a micro-dose of melatonin (0.3 mg) instead. This super small quantity replicates the amount normally produced by the body each night: 0.075-0.3 mg. It's notable that 3 mg of melatonin (which is considered the norm in retail stores) is somewhere between 10-40x higher than the normal physiological quantity. Therefore, 3 mg of melatonin may be considered a "pharmacological dose" due to its size and drug-like effect: heavy sedation. Here at Youtheory, we believe that individuals should refrain from using a "pharmacological dose" for more than three consecutive nights (as a rule of thumb) and instead opt for a more natural sleep aid
*Use only at bedtime. Do not use with antidepressant drugs, alcoholic beverages, when driving a vehicle, or while operating machinery. Check with your doctor before using this product if you are taking medication or have any medical conditions. Do not use if you are pregnant or nursing. Do not exceed the recommended daily intake. Not intended for persons under 18. KEEP OUT OF REACH OF CHILDREN.