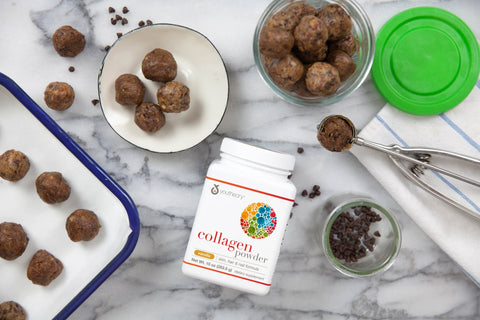 almond butter chocolate chip energy bites
Ingredients
1 1/2 cups pitted dried dates (about 8 oz)
1/2 cup creamy almond butter
4 scoops Youtheory® Collagen Powder
1 tsp vanilla extract
1/4 tsp fine sea salt
1/3 cup mini chocolate chips or cacao nibs
Directions
In a food processor, combine all ingredients except chocolate chips and blend until smooth and beginning to hold together (don't overwork it; it will become oily and harder to handle). (Yield: About 13.4 oz).
Transfer to a bowl and knead in chocolate chips.
Using a 1-Tbsp cookie scoop, portion dough into even pieces.
Roll between your palms into balls. Place on baking sheet and refrigerate until firm.
Serve, or cover and refrigerate or freeze to serve later.
Variations:
Replace chocolate chips with raisins and add 1 tsp of cinnamon when blending.
Replace the chocolate chips with chopped white chocolate and add 1 to 2 tsp lemon zest when blending.
Replace chocolate chips with dried cranberries and add 1 to 2 tsp orange zest when blending.