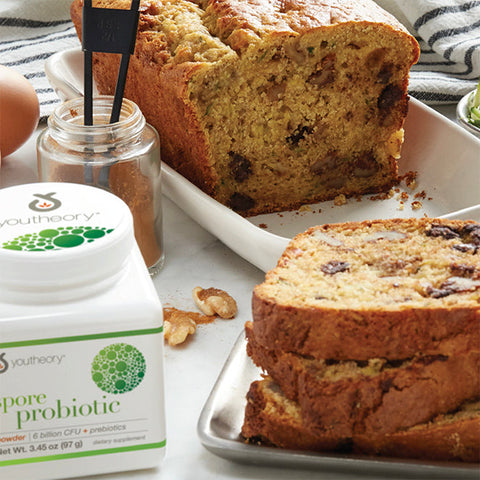 dark chocolate chip banana zucchini bread
Ingredients
3 medium ripe bananas
1 cup zucchini, shredded
1/2 tsp vanilla extract
1 large egg
1/2 cup canola oil
1 tsp vanilla extract
1/4 cup organic cane sugar
1/4 cup organic brown sugar
2-3 Tbsp maple syrup
3 1/2 tsp baking powder
1/2 tsp kosher salt
1/2 tsp cinnamon
1 1/2 cups gluten-free flour
1/2 cup pecans/walnuts
1/2 cup dark chocolate chips
Directions
Preheat oven to 350°F.
Grease bottom and sides of loaf pan and line with parchment.
Mash banana in medium bowl. Add zucchini and combine.
Add remaining ingredients except nuts and chips. Mix to combine.
Fold in nuts and chips.
Pour batter into prepared loaf pan.
Bake in 50 minutes until toothpick inserted in middle of pan comes out clean.