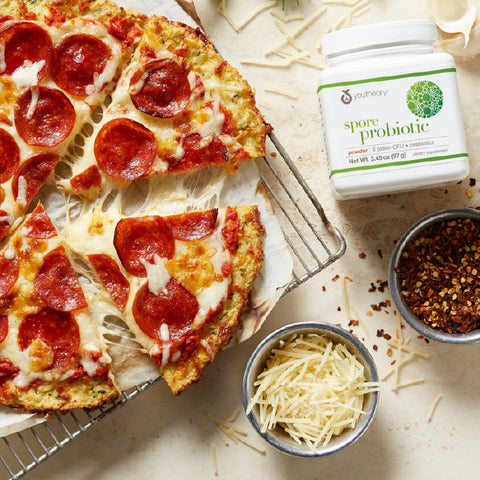 flower power cauliflower pizza
Ingredients
1 head cauliflower, cut into florets*
2 eggs, large
2 tsp Italian seasoning
1/4 cup rice flour
1/4 cup parmesan cheese
1/2 cup mozzarella cheese
2 Tbsp marinara sauce
1/4 cup pepperoni nitrate free, cut into strips
2 Tbsp basil, fresh
*If using pre-made cauliflower crust, top with 1 scoop of Youtheory® Spore Probiotic Powder and favorite toppings.
Directions
Preheat oven to 400°F.
Place cauliflower florets in food processor in batches and process until the cauliflower looks like rice.
Place riced cauliflower in glass bowl and heat in microwave for 3-5 minutes.
Dump cauliflower in center of clean kitchen towel. fold towel over and twist the ends
and squeeze out water. remove as much water as possible, approximately 2 cups of water.
Transfer the prepared cauliflower into a mixing bowl. add the eggs, Italian seasoning,
parmesan and half the mozzarella cheese and combine into dough ball.
Line a sheet pan with parchment.
Place dough on parchment paper and press into a thin 9-inch round.
Bake for 30-40 minutes until light golden brown. remove from the oven and cool slightly.
Spread marinara sauce on crust, leaving a 1-inch border.
Top with mozzarella and pepperoni ingredients and bake until melted, approximately 12 minutes.