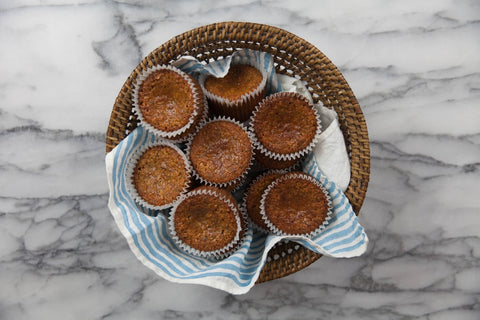 gluten-free lemon-blueberry-chia muffins
Ingredients
1/2 cup of plain yogurt
1 1/2 Tbsp of lemon zest
1/2 cup lemon juice, squeezed
1/4 cup maple syrup
2 large eggs
2 Tbsp coconut oil
1 tsp vanilla extract
1/2 cup coconut sugar (32 g)
1 cup of gluten-free rolled oats (80 g)
3/4 cup almond flour (78 g), 1 Tbsp reserved
3 scoops Youtheory® Spore Probiotic Powder
1 tsp baking powder
1/2 tsp baking soda
1/2 tsp fine sea salt
1/2 cup frozen wild blueberries
2 Tbsp chia seeds
Directions
Preheat oven to 350°F; line a 12-cup muffin tin with paper liners or grease well.In a blender or food processor, combine all ingredients except blueberries, chia seeds and reserved almond flour.
Blend until smooth, stopping to scrape down sides as needed.
Toss berries with reserved almond flour, then fold berries and chia seeds into batter.
Divide batter among muffin cups. Bake for 28 to 35 minutes, until a toothpick inserted in center of a muffin comes out clean.
Let cool in pan on a rack for 5 minutes, then turn muffins out onto rack to cool completely.