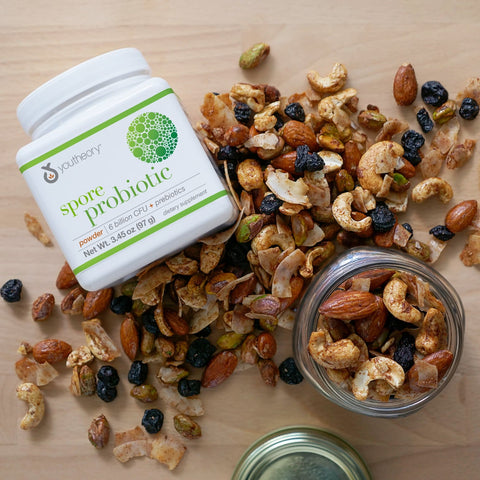 Ingredients
1 cup of each raw cashews, almonds and pistachios
1/2 cup coconut flakes, unsweetened
2 Tbsp raw honey
1 tsp vanilla extract
4 scoops of Youtheory® Spore Probiotic Powder
1 tsp of cinnamon
pinch of sea salt
1/2 cup dried blueberries
Directions
Heat oven to 350°F. Mix nuts and coconut flakes into a large bowl.
In a separate bowl, combine honey, vanilla, Youtheory® Spore Probiotic Powder, cinnamon and sea salt.
Combine all ingredients and stir until mixed thoroughly.
Spread mixture evenly over large baking sheet and bake for 12-14 minutes.
Once mixture has cooled, toss in dried blueberries and enjoy! Stores for up to 1 week in an air tight bag or container.